Information Architecture and redesign of an Online Magazine

2017


Antiques Trade Gazette is dedicated to serving the art and antiques community through unrivalled news coverage and analysis.

Published every week since 1971, Antiques Trade Gazette has a heritage of authority, integrity and accuracy at the heart of its reporting that make it the essential read for anyone with an interest in the fascinating world of art & antiques.







Although printed Gazette and online version shared exact same content, anyone could access to printed content through the website.

In order to over come this unfair situatin to their print subscribers, Gazette has decided to introduce paywall on their website.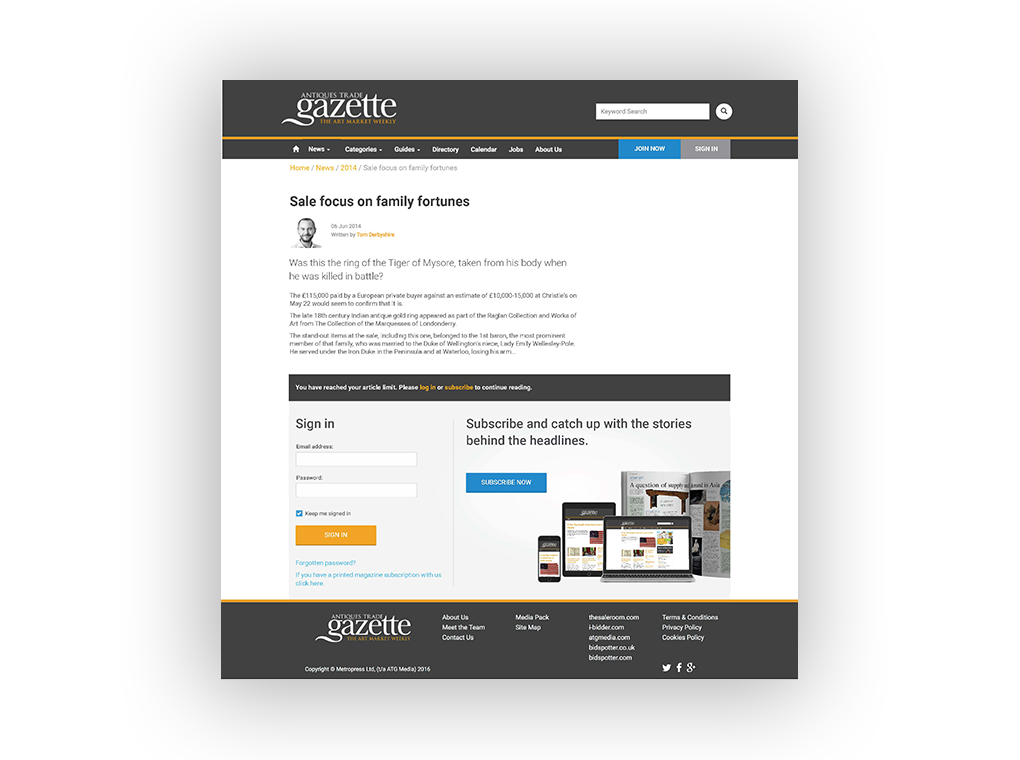 I have worked as the product designer while development of the new site has been outsourced to another agency.

As part of the product discovery process, we ran several workshops with marketing, editorial and management. To support the workshops, I have created different hi-fi prototypes as POC.

During the workshops, we have discovered that a new structure based on containers would be the ideal solution for ease of reading and updating.


Paywall Flow


Visually, a container is a horizontal element that scales independently of the page it is on. Structurally, a container offers one closed block of information that can be combined into a page. Instead of the usual container element concept, I have used the concept beyond header and footer. As a result, every container on any page can be reused throughout the site, independent of layout.


Container is a horizontal element that scales independently of the page it is on



In order to make this possible, containers span the full page width and scale responsively. The container concept helps defining what appears on a new front on any page independent of visual design. Agreeing on a "top to bottom prioritization" speeds up the editorial processes as there is no space for discussion about visual hierarchy. If the relative priority of content is clear, the reader will understand the logic more easily.

Together with the container concept, Gazette has moved away from thinking about specific pages on the site. Instead, they now start with the most relevant piece of information. Whether homepage, a section like "Auctioneers" or latest news, the article is thought as the center through which readers came in and eventually left.

The logic of placing teasers on overview pages followed a simple model of grouping and prioritization.






Business goals has influence over the prioritisation of the containers. To find the perfect balance between business goals and user expectation, prioritisation has to be tested and optimised over the life of the website.

The concept allows content to be distributed easily across different pages and opened the doors to a flexible, layout independent architecture and more but less distracting ad containers.


Deliverables


Final deliverables includes complete user flows, wireframes, interactive hi-fi prototypes (Adobe XD) and final design of whole website in Sketch format.


Implementation


Starting from Jan 2017, the implementation of the project has started with implementation of paywall and homepage togethert with couple of other sections. It was planned that the whole project would be finished in 2018.

You can view the live project on

http://antiquestradegazette.com




There are several other screens designed, If you would like to see more visual designs of the project please request access by email.